A City Farmer, A Chef, and A Host was a New York City dine-around evening to benefit Just Food and The Sylvia Center. On Tuesday, July 24, 2012, twelve concurrent dinners, each prepared by a top New York chef using produce from an urban farm and hosted in a private home, brought together food enthusiasts, taste-makers and philanthropists for a common cause. The dine-around was co-sponsored by Edible Manhattan and Edible Brooklyn.
Great Things Happen in Small Gatherings!
by Liz Neumark
Last week Just Food and The Sylvia Center brought together over 200 New Yorkers in a series of meals hosted in homes around the city, reminiscent of how families and neighborhoods came together around the table for generations.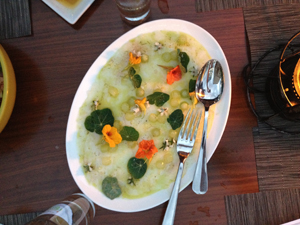 Gracious hosts (community leaders and luminaries, activists and advocates) opened their doors to friends and relatives, but also made room at the table for like-minded strangers, demonstrating their belief that galvanizing others to help the less fortunate is a mission to embrace in our most sacred place — our home.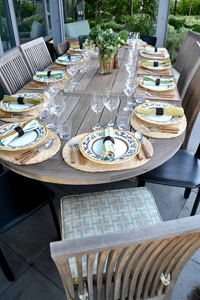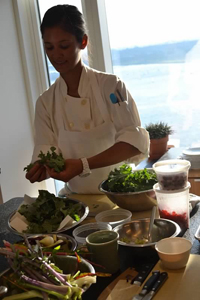 But these were not ordinary meals and not only because they were each so intimate. For the most part, the fish were from local waters, the meat procured from local herds, cheeses crafted by local artisans, fruits from local orchards and vegetables from farms so close as to be labeled 'urban farms' some of whose produce was delivered by bicycles!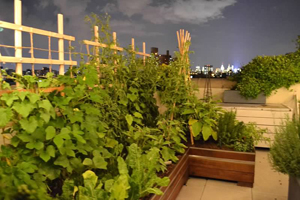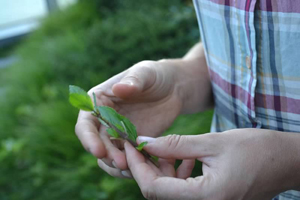 The magic at each meal was not only in the raw ingredients, but in the chef who volunteered to cook in each home kitchen. Our city's finest culinary leaders took the night off from their own restaurants and families to weave together a trinity of entities telling a story of how our food system can both nourish and amaze the fortunate, yet exclude others from the benefits of the same bounty.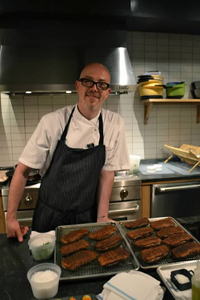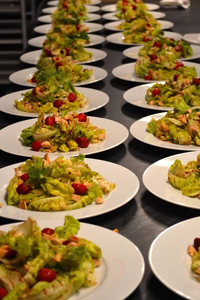 A City Farmer, A Chef and A Host took over six months to organize and execute. The teams of Sylvia Center and Just Food staff painstakingly poured over the nuances and needs of every home, matched guests with preferred meals, responded to the unique requirements of each chef, coaxed and coordinated city farmers, worked to find donations of wines and other items, and of course, get the word out. In an age of standardization, this was a stand out effort: a labor of love within a community that celebrates dedication and education with passion.
How were the dinners? The hosts were an amazing group and three have posted their stories:
Joanne Wilson AKA Gotham Gal – Chef Andrew Carmellini, Locanda Verde
Battery Park Host – Chef Howard Kalachnikoff, Gramercy Tavern
Alison Schneider of Haven's Kitchen – Chef Peter Hoffman, Back Forty
Photographs Courtesy of Brooke Yalof. Find additional images here.
Event Details
Date: Tuesday, July 24, 2012
Number of Dinner Locations:  11
Number of Dinner Guests: 12-25 per location
Dinner Locations:  Private homes and meaningful food spaces
Dinner Preferences:  Guests choose their top three preferences when purchasing a ticket. Event organizers will do their best to match guests to their top dinner choice.
Tickets: $500 per person
Dinner 1:
City Farmer: Maggie Cheney, EcoStation:NY
Chef: Jeremy Bearman, Rouge Tomate
Host: The home of Amy and Curt Middleton on the Upper West Side
Co-host: James Frey, Author
First Course
Chilled Corn Soup Jalapeno with Basil and Red Shiso
Second Course
Heirloom Tomato and Watermelon Salad Local Feta with Cucumber, Arugula and Basil Sherry Vinegar
Third Course
Amish Country Chicken Collard Greens with Buttermilk Grits and Okra, Bunching Onion and Habanero Jus
Dessert
Local Peach Tart Greek Yogurt and Lemon Verbena Candied Lemon
Dinner 2:
City Farmer: Eric-Michael Rodriguez, Weeksville Heritage Center
Chef: Laurent Gras
Host: The home of Lili Lynton and Michael Ryan on the Upper West Side
Co-host: Leonard Lopate, Radio Personality
First Course
Weeksville Heritage Farm Tomato Salad Buffalo Mozzarella, Basil, Cucumber
Zucchini, Thyme
Weeksville Heritage Farm Eggplant Salad Gem Lettuce, Smoked Trout, Farm Herbs Lemon Vinaigrette
Entrée
Colorado Lamb King Oyster Mushroom, Corn
Red Pepper, Rosemary
Long Island Striped Bass Jonah Crab, Jalapeno, Chives, Lemon Corn Pepperonata
Dessert
Strawberry Mascarpone Sorbet, Lemon Confit Farm Strawberries
Cherry Vanilla, Roxberry Farm Cherries, Almonds
Dinner 3:
City Farmer: Annie Novak, Eagle Street Rooftop
Chef: Howard Kalachnikoff, Gramercy Tavern
Host: The home of Frederic Rich in Battery Park
Co-host: Eric Sanderson, Author of Mannahatta: A Natural History of New York City

Dinner 4:
City Farmer: Abu Talib, Taqwa Community Garden
Chef: Peter Hoffman, Back Forty West
Host: Haven's Kitchen in Chelsea
Co-host: Joan Gussow, Professor, Author, Food Policy Expert
Dinner 5: (Vegan menu)
City Farmer: Tai Gilbert, Loisaida Hydroponics Studio
Chef: Angel Ramos, Candle 79
Host: The home of Katja Goldman and Michael Sonnenfeldt on the Upper West Side
Co-host: Dorie Greenspan, Cookbook Author
First Course
Arugula and Mixed Lettuce Salad Cucumbers, Heirloom Tomatoes,
Pea Shoots and Sunflower with Basil Vinaigrette
Entrée
Porcini-Crusted Seitan Roasted Fingerling Potatoes,
Sautéed Chard and Kale with Vegetable Reduction
Dessert
Cherries with Vanilla Cashew Cream
Ginger Candied Pecans and Vanilla Ice Cream
Dinner 6:
City Farmer: Karen Washington, La Familia Verde
Chef: Andrew Carmellini and Ron Rosselli, Locanda Verde
Host: The home of Joanne Wilson in the West Village
Co-host: Ben Leventhal, Eater.com Co-Founder

Dinner 7:
City Farmer: Yonnette Fleming, Hattie Carthan Community Garden
Chef: Dan Kluger, ABC Kitchen
Host: The home of Laura Walker in Brooklyn Heights
Co-host: Dan Zanes, Singer
First Course
Still Warm Fresh Mozzarella
Heirloom Tomatoes, Olive Oil Salt and Pepper
Entrée
Slow Baked Halibut Summer Squash Purée
Nasturtium Vinaigrette
Dessert
Strawberry-Honey Shortcake
Strawberry Sorbet Buttermilk Lemon
Dinner 8:
City Farmer: Zachary Pickens, Riverpark Farm at Alexandria Center
Chef: Sisha Ortizar, Riverpark
Host: The Farm Table at Riverpark Farm in Murray Hill
Co-host: Dar Williams, Singer Songwriter
Dinner 9:
City Farmer: Molly Culver, The Youth Farm at the High School for Public Service
Chef: Bill Telepan, Telepan
Host: The home of Sarah and Victor Kovner on the Upper West Side
Co-host: Ellie Krieger, Host of The Food Network's Healthy Appetite
First Course
Heirloom Tomato and Sweet Onion Salad with Telepan House Dressing
Second Course
Chard and Ricotta Ravioli with Zucchini
Third Course
Local Roasted Fish
Farro Tabbouleh Braised Greens with Toasted Garlic Cucumber Mint and Yogurt Sauce
Dessert
Tres Leches Cake
Berries and Peaches
Dinner 10:
City Farmer: Classie Parker, Five Star Garden
Chef: David Waltuck, ex Chanterelle
Host: The home of Kurt Giehl and Jeff Ragovin in Harlem
Co-host: Jonelle Procope, President and CEO, Apollo Theater
Hors d'oeuvres
Fennel-cured Salmon and Fennel salad on Black Bread Toasts
Fried Oysters with Curry Pickled Cucumbers and Red Caviar
Beet "Tartar" in Puff Pastry Cups
First Course
Chilled Tomato Consommé, Herb Coulis, Maine Crabmeat and Black Caviar
Second Course
Steamed Squash Blossoms filled with Shrimp and Lobster with Lemon Basil Butter
Entrée
Grilled Loin Lamb Chop with Smoky Eggplant Flan and Rainbow Swiss Chard with Rosemary Ratatouille Sauce
Desserts
Classie's Famous Sweet Potato Pie with Crème Fraiche
Dinner 11:
City Farmer: James Casey, The Truck Farm
Chef: Dan Silverman, The Standard Grill
Host: The Tasting Table Test Kitchen & Dining Room in Soho
Co-host: The Beekman Boys
First Course
Little Gem Salad with Tristar Strawberries, Smoked
Marcona Almonds and Balsamic-Almond Vinaigrette
Second Course
Seared Maine Diver Scallops with Avocado-Cilantro Sauce
Entrée
Pan Roasted Long Island Duck Breast with Farro, Peas, Fava Beans and Roasted Apricot-Tarragon Sauce
Dessert
Basil Panna Cotta with Blackberries and Spiced Coconut Wafer